Domestic Goods Transportation
Reliable and convenient B2B and B2C transport within the Czech Republic. Efficient logistic connection of business partners.   Truck-load and piece shipments including express shipments.
Domestic Truck Transport Services
The most important European manufacturers and suppliers rely on Roline's transport and forwarding solutions. More than 30 years of experience guarantees top-quality service.
Domestic Transport - Dispatch
We are sure to find an efficient solution for your transport requirements.
Fleet of reliable DAF and Volvo vehicles
Average fleet age of

 

3.5 years
Own truck and semi-trailer service, tyre service, car wash
Unloading with hydraulic front end

Semi-trailer sets
Volume 90 cbm | 33 EUR pallets | max. 25 t
length: 13.60 m
width: 2.48 m
height: 2.70 m

Low Deck semi-trailer sets
Volume 103 cbm | 33 EUR pallets | max. 25 t
length: 13,60 m
width: 2,48 m
height: 3,00 m
Trailer sets
Volume 120 cbm | 38 EUR pallets | max. 24 t
length: 15.60 m
width: 2.48 m
height: 3.00 m

Frigo sets
Volume 85 cbm | 33 EUR pallets | max. 25 t
length: 13.60 m
width: 2.48 m
height: 2.60 m
Distribution trucks
Volume 39 cbm | 18 EUR pallets | max. 7t
 length: 7.20 m
width: 2.48 m
height: 2.30 m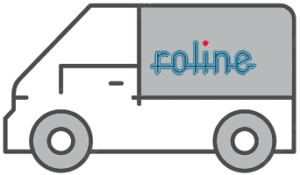 Distribution vans
Volume 16 cbm | 8 EUR pallets | max. 1,000 kg
length: 4 m
width: 2 m
height: 2 m